What is Change Of Address?
Change of Address is a collective formed by artists Moira Brady Averill, Oonagh Murphy and Maeve Stone to increase visibility and raise awareness of the experiences of refugees and asylum seekers in Irish society.
We foster friendships by facilitating ongoing fun and social events for those currently and formerly in the asylum process, local communities and youth groups. We want to form new communities by getting everyone playing together, talking together and eating together.
Building relationships is at the core of our practice.
The Mouth of A Shark
11 March // 6.30pm
12-15 March // 8.30pm
Tickets: €16
A Change of Address & THISISPOPBABY Co-Production in association with Wicklow Arts Office and supported by CREATE
In an era of borders, walls, travel bans and escalating far-right ideology, The Mouth of a Shark presents the real-life stories of asylum seekers and Irish emigrants – generations of people, historic and current, who left home due to repressive laws, cultural stigma, dwindling opportunities and persecution.
From acclaimed director Oonagh Murphy, featuring stunning original music from composer Maeve Stone, The Mouth of a Sharkcounterpoints Irish emigration stories with the contemporary experiences of those seeking asylum here in Ireland, asking us all to bear witness to the many reasons we migrate, and question; Where do we get to call home?
Directed by Oonagh Murphy
Composed by Maeve Stone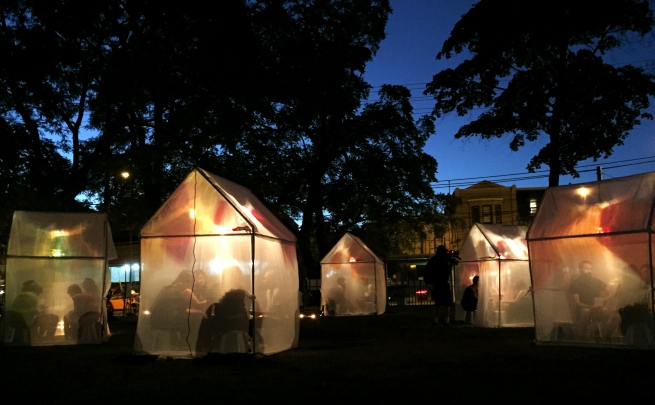 TROPHY
Venue: Barnardo Square
Walk through a pop-up city of stories. Comprised of a cluster of tents, Trophy lights up Barnardo Square. Inside each tent, encounter a person who tells the true story of a moment in their life when everything changed. Move through the city of stories, visit as many tents as you feel drawn to. The installation's evolution is determined by your actions. As the day passes, the tents transform into multi-coloured structures covered in stories of change. Trophy is a living monument to the experiences that make up our lives and a compelling conversation about change.
In this special-to-Fringe presentation, STO Union and Change of Address join forces to give a local voice to a powerful Canadian concept. Canadian multi-disciplinary company STO Union create shows, videos, live art and installations.
For more information visit Dublin Fringe
We're thrilled to announce that Trophy has won a Special Judges Award from Dublin Fringe!
On the 20th September our dear friend and collaborator - and one third of Change of Address - Moira, passed away. It is a massive shock to us and to everyone who knew and loved her. She was a hilarious, generous and loving person who cared deeply about the refugee community.
She summed up what we want to achieve with her introduction to our 'Practice and Peril' event in the Science Gallery in January.
I have this list of prompt words and word combinations that articulate the themes associated with our endeavour
First on the list: Friendship
And -Community
A gathering together of varying interests, experiences and perspectives
Modes of empowerment potential
An evaluation of systemic malfunction
A grassroots confrontation of state mandated internment
We are faced with the awkward and showy and easily self righteous task of deconstructing the official in order to officialize common sense in a public sphere. The people you will see today will speak to one another. They will be before you, speaking in public to someone who was a relative stranger four weeks previous to today. If initial discomfort is a revolutionary ask then perhaps that is something for us all to consider when we leave here today.We have officialized conversation and companionship in an effort to create a dialogue around an extreme injustice which is all too present and all too unseen in our country at this moment. We attempt to undermine, with friendship, the tediously slow and inadequate system of Direct Provision currently in place in Ireland.
We will miss her 'til the end.
"This life is a rage canvas. It's time to paint over it" - Moira Brady Averill
Supported by Dublin City Council Arts Office, the Irish Refugee Council and St. Patrick's Community Fund.